The Regional Innovation Scoreboard (RIS) indicators are the central element of the Southern Catalonia Information System, which provides information on 11 of the 17 RIS indicators (the six CIS, i.e. Community Innovation Survey, indicators are access-restricted and not included because the data are not sufficiently representative at Southern Catalonia level). [1]
Innovation indicators at the Southern Catalonia level (extracted from the 2017 and 2019 RIS reports) are shown in the table below, which compares the indicators at four territorial levels: average of European regions (NUTS 2), average of Spanish regions (NUTS 2), Catalonia (NUTS 2), and Southern Catalonia (NUTS 3).
The data for estimating the indicators for Southern Catalonia (NUTS 3) are obtained from sources such as the Spanish National Institute of Statistics (INE), the Catalan Institute of Statistics (Idescat), and the Organisation for Economic Co-operation and Development (OECD). For other European regions, sources such as Eurostat, the OECD and the European Union Intellectual Property Office (EUIPO) are used.
Table: Innovation indicators obtained for Southern Catalonia and data from RIS for the European and Spanishregions, and Catalonia.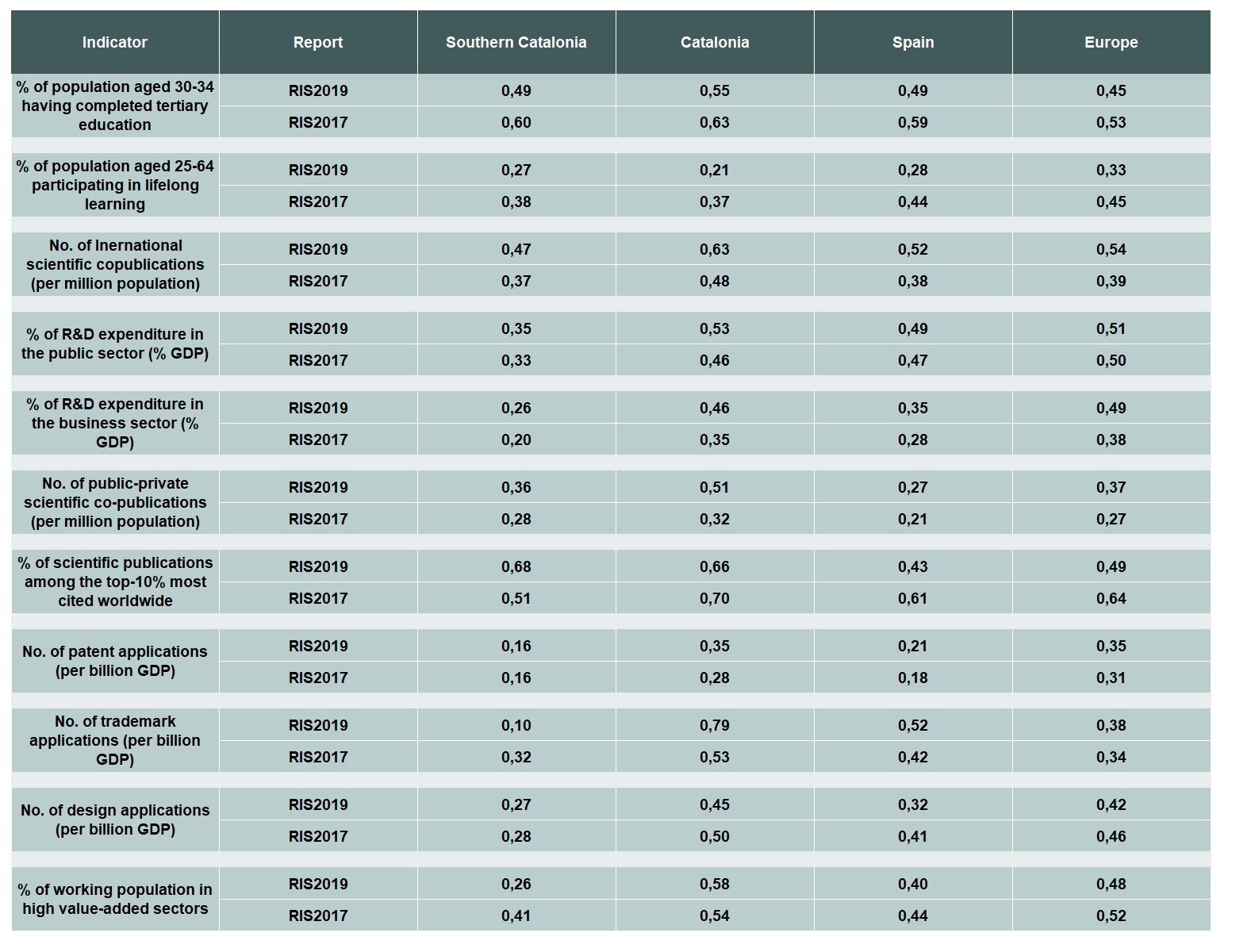 Notes:
* The value for each indicator ranges from 0 to 1, where 0 corresponds to the indicator's lowest value in any European region and 1 corresponds to the highest. The value for each indicator is therefore a measure of Southern Catalonia's relative position in relation to other European regions.
** The estimation of the indicators for Europe and for Spain has been calculated using the weighted average. The data used to calculate are the regional indicators included in the respective RIS reports (2017 and 2019) and the population data for the European regions for the years 2016 and 2017, respectively, which correspond to the most current year for which most of the indicators in the RIS reports have been calculated.
[1] The Community Innovation Survey (CIS) is conducted at NUTS2 level, as is the case with most surveys carried out within individual member states and across the EU as a whole. Typically, the disaggregation of provincial results does not satisfactorily increase the representativeness of the data. One possible solution is to correct the lack of representativeness at NUTS3 level by modifying the survey methodology and extending the territorial scope of the sample; however, this is almost unfeasible due to the high associated cost.